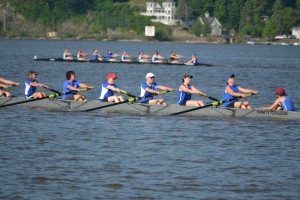 On Sunday, June 2nd, six of the WeCanRow-Boston members raced in the annual Row for a Cure regatta in Poughkeepsie, New York.
The event features 1,500-meter sprint races in 28 cities across the United States and Germany. All funds are donated to Susan G. Komen for the Cure to assist patients and families in local communities. The WeCanRow-Boston boat came in 2nd place in their race, beating four other masters and high school women boats! Congrats ladies!
Rowers, as seen from left to right: Martha M, Ann M, Kearney, Vickery, Christin, Jeanette, and coach/coxswain Sally O'Conner.